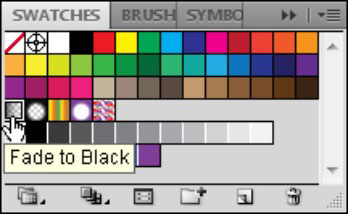 You can use Adobe Creative Suite 5 (Adobe CS5) Illustrator to not only create gradients as well as apply them. Gradients are the tonal variations used to apply smoothly changing color effects.
  Before beginning the process of creating a gradient, it would be a good idea to undock your Color panel. Click the Color tab on the Color panel and drag it out to the artboard, essentially separating it from the rest of the panel group.
  1Click the Fade to Black swatch in the Swatches panel to reach a good base point.
  Select the Fade to Black swatch from the Swatches panel.
  2Notice the Gradient slider that appears at the bottom of the illustrator gradient panel.
  Click on the color stop to activate it. On the left and right side of the slider, you see color stops. Click on the left color stop on the Gradient Slider to see that this black color stop is set to 100% opacity.
  3Click on the right black color stop to see that it is set to 0% opacity.
  When a color stop is active, the triangle on top turns solid.
  4Choose Window→Color to access the Color panel.
  If the ramp on the Color panel is transitioning from black to white, click the triangle in the upper right corner to open the panel menu; choose RGB or CMYK colors. This provides you with a color ramp.
  5Select a color.
  Click the gradient ramp (across the bottom) in the Color panel to pick a random color (or enter values in the text fields to select a specific color) for the active color stop in the Gradient panel.
  6In the Gradient panel, click the right color stop and change the Opacity to 100%.
  Change the opacity of the right color stop to 100%.
  7With the right color stop still selected, click another color in the color ramp in the Colors panel.
  To add color stops, click beneath the gradient ramp and then choose a color from the Color panel. You can also drag a swatch from the Swatches panel to add a new color to the gradient. To remove a color stop, drag it off the Gradient panel.