Modern phones have modern apps that can do things that just 10 years ago you'd never have imagined a phone could do.  You can now live a complete modern life without having to own a Windows PC or an Apple Mac. With smartphones becoming more and more powerful, apps can do more and more things. There are credible mobile image editing apps ; you can edit video on your phone ; and you can even run a complete office with productivity apps, calendars, and to-do lists, social media managing apps, and a plethora of team communication apps.
Today, we're going to look at all the best audio editing apps you can get for your Android smartphone. With these apps, you'll be able to produce your own music, remix your favorite classic track, make your own ringtones, or simply stitch together some audio clips into a coherent podcast. Without further ado then, these are the best audio editors and audio recorders for Android.
More about audio editing
How to get the most out of Free Audio Editor ►
How to use Garageband to edit songs ►
How to add free sound clips to your audio project ►
How to use Audacity: 14 beginner tips ►
The best audio editing apps for Android
MP3 Cutter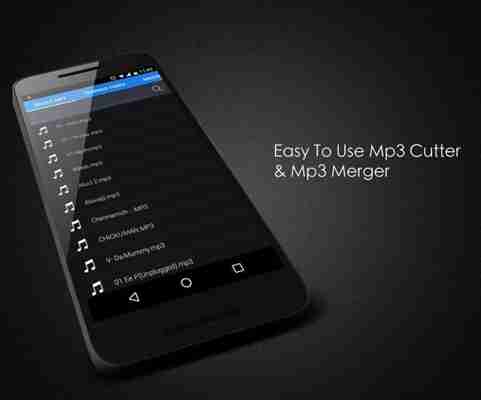 We're starting off with a great app for stitching together your podcasts or for other basic audio editing jobs. MP3 Cutter makes it easy for you to trim your audio tracks, splice them, cut them and put them all back together again in whichever order you see fit. It works great with voice tracks as well as music. You'll also be able to save your completed audio tracks in various file formats and even set them as your ringtone from within the app.
MP3 Cutter is a free app, paid for by ads. It does, however, offer an in-app purchase costing $1.99 that will remove all the ads.

WavePad Audio Editor
Another free audio editing app for Android is the WavePad Audio Editor. WavePad is a great editor for amateurs and professionals alike giving users the ability to stitch together many different types of audio files and then save them as a single format. You can use WavePad to record your sounds, add sound effects, and then save to the format of your choice. The app also has good sharing features, which will be good for anybody needing to submit their work or upload it to a third-party website.
WavePad is a free app but you'll need to pay to access some premium features.
Voice Pro
Voice Pro is another excellent app that gives you access to high-quality audio recording features. Voice Pro users will get their hands on a lot of audio editing tools including background music tracks, audio encryption, up to 100 different audio formats to save your work as, and solid mixing capabilities. Voice Pro doesn't just record audio either, it also has a transcription feature, but we've found it doesn't work as well as some other transcription apps.
Although Voice Pro is one of the most feature-rich apps on our list, unfortunately, it comes with a price tag to match. To get your hands on this professional audio editing and voice recording app will set you back $9.99.
Lexis Audio Editor
Lexis offers audio editing software available on Windows, Google Android, and iOS iPhone and iPad. The Android app offers some great audio editing capabilities and a nice user-friendly interface. This is a great app for beginners but also has plenty of tools to get more complex jobs done too. Lexis allows you to record quickly and simply, and then perform many editing tasks on your track. It has noise reduction features, tempo change, speed and pitch control, and many other useful features like normalizing and fades.
Music Maker Jam
Music Maker Jam is another app that is available on Windows as well as having mobile apps for both iPhone and Android. As the name suggests, this app is a music editor much more geared towards producing music files as opposed to podcasts or interviews. The app gives eight multitrack channels for you to build your track with and offers many different sample sounds and instrument tracks for you to include in your hits.
Again, like with most of the other free apps in this list, Music Maker Jam hides some features behind in-app purchases and will show ads to all free users.
Audio Evolution Mobile Studio
Despite how amazing our smartphones are these days they still offer a certain handicap over a full-sized laptop or Mac. That handicap is the size as it can be a lot fiddlier and frustrating trying to edit or control your audio tracks on a tiny screen. This is where Audio Evolution Mobile Studio comes in for Android users. It supports over 250 USB audio/MIDI interfaces meaning a DJ could take their midi controller with them and then DJ full gigs from their Android phone or tablet, knowing they'd be able to do everything they could on their laptop or Mac. It is also a great app recording audio on an Android device and will also help you edit audio files. It offers most of the features you can find elsewhere on this list. This app should definitely be taken seriously.
Audio Evolution Mobile Studio is a free app, but some of the more advanced features will require in-app purchases.
Media Converter
The final app on today's list strips away all the bells and whistles you get with the more advanced apps featured above. Sometimes you don't need to edit your tracks, trim them, splice them together, or fade in or out to a tempo change. Sometimes you don't even need to stitch two different tracks together and you just need a simple app for a simple task. That is exactly what Media Converter is. If all you need to do is convert your audio file to upload it to a certain social network, website, or audio player then Media Converter is the app for you. It still has simple audio clipping features, but the main feature is converting your media files into various formats. It can also save your audio files as ringtones making it a great ringtone maker, which is probably the main reason you wanted to read this article anyway.
Media Converter is a free app.