Intel today announced it is teaming up with AMD to create a new processor with discrete Radeon graphics, prompting me to construct a sentence I never thought I'd be writing. It's a shot across the bow to Nvidia, an increasingly powerful common enemy for Intel and AMD.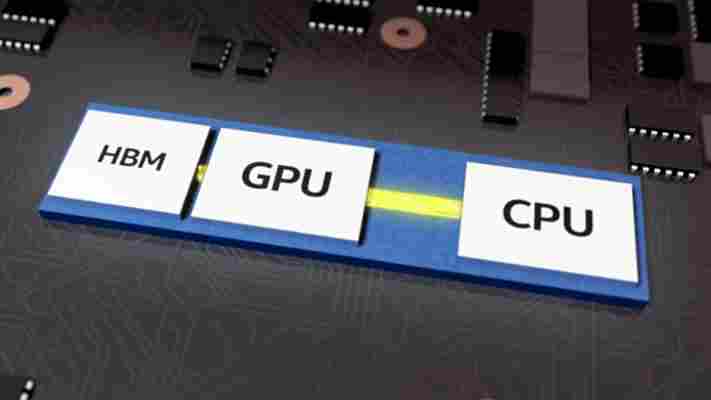 We don't yet have any hard specs on the processor/graphics combo, but the idea is enabling the performance of a discrete GPU in a package way smaller than the usual dedicated graphics. Intel says it's "less than half" the size of a usual CPU/GPU combo on mobile devices, allowing manufacturers to dedicate the extra space to cooling, battery, or other features.
The companies achieved the space reduction using Intel's 'Embedded Multi-Die Interconnect Bridge' and a new power-sharing framework. If you're the type of person whose eyes didn't glaze over that sentence, you can read more here. Basically, it means the CPU, GPU, and graphics memory can communicate efficiently and be squished into a tiny amount of space without overheating.
It's a direct attack on Nvidia, which recently introduced 'Max-Q' to ostensibly serve a similar purpose: dedicated graphics in smaller packages. But that solution seems to mainly revolve around optimizing existing graphics chips for the thermals and power consumption of smaller systems. Intel and AMD's solution, on the other hand, includes a semi-custom GPU and directly reduced the space needed for processors and graphics to coexist.
But again, we don't have any hard specs, or even a rough idea of what level GPU Intel and AMD are targeting. It's fair to assume it will at least be more powerful than Intel's own Iris Pro series graphics, which is interesting to note after Intel has devoted so much resources into improving integrated graphics.
If the companies target something at least as powerful as, say, an Nvidia 1050 or even a 1060, they could really be onto something. I can imagine Apple would be particularly interested, as one of the relatively few companies that has already tended to pair Intel processors with AMD graphics.
Although the partnership appears to only extend to a single processor in Intel's H-series (usually reserved for 15-inch+ laptops) for now, it wouldn't be surprising to see the companies team up again if it helps them land a real blow on Nvidia. Anything that gives me discrete graphics in a smaller package is a good thing in my book; hopefully we get some concrete specs soon to know whether it's really worth your while.