At times, Active Noise Cancelling (ANC) can be an absolute godsend. Ever the popular choice for regular commuters, you'll be hard-pressed to board a plane and not see a few pairs of Bose QuietComforts dotted up the aisles. But the sound of silence often comes at a premium price. ANC headphones typically aren't cheap - Bose's QuietComfort 35 and Sony's MDR-1000X are upwards of £300.
Enter the Lindy BNX-60 at £80 , a comparatively budget-friendly pair of active noise cancelling headphones that, at first glance, share a passing resemblance to Bose's SoundLink Around-Ear Wireless Headphones II . Admittedly, these are actually one of Bose's non-ANC headphones, so the BNX-60 are relatively compact considering their internals.
Better still, if you're on a tighter budget and can't afford to spend £80 on a set of ANC Bluetooth headphones , you can get the Lindy NC-60 's instead. These are identical in almost every single way, other than they're wired. Their ANC capabilities work through two AA batteries that sit in the left cup. At £57 for the NC-60, they're among the cheapest ANC headphones on the market.
Below, you'll find our review of the BNX-60, where the ANC, build quality, design and sound quality sections apply to the NC-60.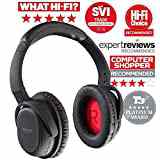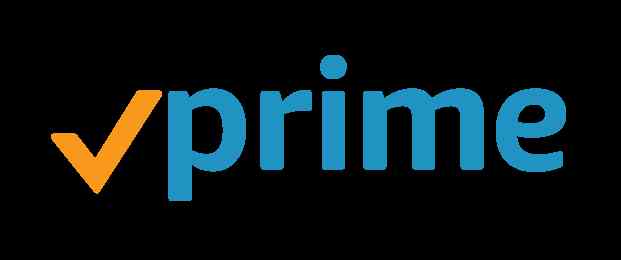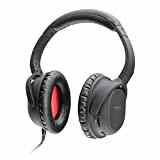 READ NEXT: Best noise-cancelling headphones 2017: The best ANC headphones from £50 to £350
Lindy BNX-60 review: Build quality and design
The ear cups have a soft-touch plastic backing and there's a generous amount of padding that sits around your ears. The inside has an attractive, contrasting red that stands out against the black used everywhere else. There's ample padding found on the headband, too. I found the fit of the BNX-60 comfortable without too much compression around my head.
The BNX-60 are wireless - yes that's right, unlike the Bose QuietComfort 25 , the BNX-60 work via Bluetooth and they also support the aptX codec, which means you'll get a CD-quality over Bluetooth - a pleasant surprise considering the cost.
The left earcup has media playback controls for skipping and pausing tracks, and the play/pause button is used to turn the headphones on and put them in Bluetooth pairing mode. You're also able to hold the track skipping buttons to adjust the volume on your connected device, but getting the timing right to make small volume changes is a little fiddly. The buttons themselves are also a little too small and flush for my liking, but you do get used to them after a while.
There's a 3.5mm jack for using the included cable for when the internal battery dies. This lets you use the included airline adaptor as well, which is handy if you want to use the headphones with in-flight entertainment. A 3.5mm to 6.3mm adaptor is also included for hi-fi users.
On the right earcup, there's a toggle switch to turn on the active noise cancelling as well as a rather retro volume adjustment wheel to adjust the headphones' volume independently. To avoid the slightly clunky device volume adjustment, I typically left my smartphone set to maximum volume and adjusted the volume on the headphones. This isn't ideal, however, as this will be to the detriment of battery life on your Bluetooth-connected device.
Lindy BNX-60 review: Battery life and ANC performance
Battery life on the BNX-60 is rated at up to 30 hours for the active noise cancelling and 15 hours for the Bluetooth, which is certainly enough to get you through a long haul flight. What this means is that while there might not be enough battery left to connect wirelessly to your audio device over Bluetooth, you can still use the noise cancelling over a wired connection.
As the battery life for the noise cancelling exceeds that of the Bluetooth wireless, I can't see many occasions when you'd want to turn the noise cancelling off. As such, it's slightly irritating that you have to remember to turn off the noise cancelling manually. All too often I'd turn off the Bluetooth pairing at the end of a listening session, but forget that the noise cancelling was still turned on. Having to turn on and off two things each time gets slightly annoying.
I never had to charge the headphones more than once a week and charging is done over microUSB. You can transport the headphones in the included hard case.
The active noise cancelling itself is not as pronounced as on rival headsets. I'd estimate it managed to reduce about 80-85% of the ambient sound, keeping in mind the limitations of active noise cancelling, which works best with repetitive sound waves, like air conditioning or the drone of a plane. Sat on a train or bus, I was able to block out a considerable amount of distracting noise, and while it's not as impressive as on more expensive models, it's still very respectable considering the cost.
Lindy BNX-60 review: Sound quality
There's quite a pronounced effect on sound production when you have the noise cancelling turned on, too. With it turned off, the sound is rather muddy and the volume immediately decreases. Turn it on, and the mids and trebles suddenly become more prominent, aided by the reduction in ambient noise and the filtering out of low-frequency drone. The tuning of the 40mm neodymium drivers doesn't seem to change whether you switch between having the noise cancelling on or off, so they've obviously been tuned for better performance with the noise cancelling on.
You still get a decent presence in the lower frequencies, although at times I felt it was a little too boomy on certain hip hop test tracks, Warren G's Regulate being one of them. However, performance across genres was generally good, making the BNX-60 a versatile pair of headphones for those with eclectic tastes.
Lindy BNX-60 review: Verdict
Aside from the control quirks, the Lindy BNX-60 are a good value pair of ANC headphones. They sound very respectable for the money, and while its noise cancelling isn't the best, it's still good enough to cut out a substantial amount of ambient noise without breaking the bank. The generous assortment of accessories is also another bonus.
If you're not too bothered about the wireless functionalities, you can get the Lindy NC-60 for £57 instead - these offer the same performance in almost every single way, apart from being wired-only. For other great headphones, have a read of our Best Headphones 2017 guide.
Hardware
Headphones subtype
Over-ear headset
Headphones driver
Closed
Active noise-cancelling
Yes
Power source
None
Headphones sensitivity
93dB (passive), 103dB (active noise cancelling)
Frequency response
20-20,000Hz
Headphones impedence
32 ohms (passive, 100 ohms (active noise cancelling)
Plug type
3.5mm jack plug
Inline volume
Yes
Weight
998g
Cable length
1.5m
Accessories
Hard carry case, airline adaptor, 6.3mm adaptor
Buying information
Warranty
One year RTB
Supplier
www.lindy.co.uk
Details
www.amazon.co.uk
Part code
BNX-60