Sirin Labs today announced it's developing a smartphone and PC designed to function on the blockchain. The devices will ship with built-in resource-sharing capabilities and run on their own cryptocurrency token.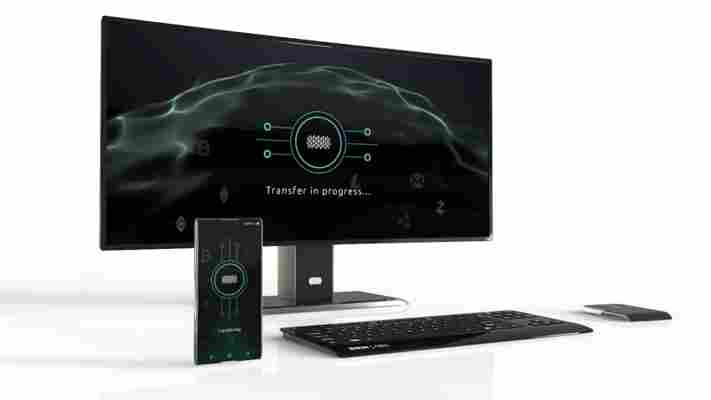 The Finney smartphone and PC are being billed as niche products, and with a price tag of $999 for the phone and $799 for the PC. After all, not everyone needs a secure e-wallet device that allows them to spend tokens on shared resources — but it would be really cool if we all had one.
Moshe Hogeg, CEO and Founder of Sirin Labs, is a big-picture kind of person. The company's last device, the Solarin , was a $16,000 smartphone billed as the world's most secure cell phone. It seems like the idea was to provide a solution for celebrities and secret agents who are willing to spend anything to keep their data safe.
This time he's building for the cryptocurrency market and, like many other startup CEOs, he's betting on the blockchain.
Hogeg told TNW:
While there's no word yet on some specifics such as release date, Sirin Lab's website does list the following technical specs for the Finney phone:
5.2-inch QHD Display
256GB of internal memory storage
8GB RAM
Wi-Fi 802.11ac
BT 5.0
16MP Main camera
12MP Wide-Angle selfie camera
And for the Finney PC:
24-inch (diagonal) 2K Display
Biometric security sensors
8GB Memory
256GB storage
Wi-Fi 802.11ac
The technology behind the phone and PC will be released as open source. Hogeg told TNW that Sirin Labs will release the hardware designs as well, in hopes that other manufacturers will make unique offerings of their own. He envisions a plethora of devices being designed and created in places like Taiwan and Hong Kong, all operating on the same token: Sirin Lab's own SRN.
Sirin Labs will be launching its SRN token sale sometime in October, with early adopter bonuses and bounties. They'll be accepting fiat money and popular cryptocurrency like Bitcoin and ETH. For the most part, this looks like your standard ICO launch. The distinction here is that token holders are the only people who will be given access to purchase the devices.
It's hard to picture a device geared toward the cryptocurrency crowd reaching the kinds of sales figures necessary to keep a $999 phone afloat, but how amazing would it be if we all started sharing our device's resources?
I look forward to living in a world where CPU power never goes to waste, data-plans are shared securely, and you don't need an advanced IT degree to figure out how it all works together.
The Finney represents a sincere attempt at empowering cryptocurrency holders with a device built for their specific needs. It costs as much as an iPhone X, but it's being designed for an entirely different kind of user.