Xiaomi made headlines earlier this year when it was revealed to be joining Google's Android One program – which meant that its next phone device would ship with a stock Android experience with the latest version of the OS installed, and would continue to be updated over the next two years.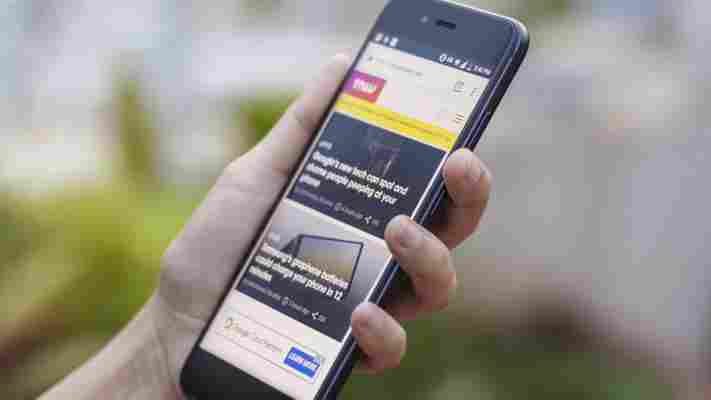 That's a huge deal for the Chinese gadget maker, which is now the largest smartphone brand in India. It subsequently launched the Mi A1 , a $232 (Rs. 15,000) dual-SIM device that's meant to rival a wide range of budget handsets not only with its hardware, but also with timely updates to its bloat-free Android experience.
With such a wide range of devices available at this price point, it's hard to make a mark and satisfy everyone – but that's Xiaomi's forte, and so I swapped my daily driver for an A1 over the past three weeks to see if it's all that.
Design
The 5.5-inch A1 isn't a particularly remarkable looking phone, especially now that there are several bezel-less options on store shelves these days. That said, it's not a bad looker when you consider the alternatives available at around the same price, including the Moto G5s Plus , the Nokia 6 and low-end Samsung Galaxy models.
Credit: Abhimanyu Ghoshal
It's perhaps most similar to the Mi 6 , but misses out on the older flagships' beautifully curved body that's easy to grip, and has a rear-mounted fingerprint sensor instead of one on the front.
The all-metal body features a fingerprint-resistant rear panel, which is actually pretty good at repelling smudges. As is now the norm, it's got antenna bands running along the top and bottom of the device on the back. I learned that it's pretty solidly built, as it didn't pick up even a scratch after slipping out of my pants pockets a few times onto marble floors.
Features
Xiaomi has tricked out the A1 with a bunch of hardware features I enjoy: a 3,080mAh battery that supports 2A charging via USB-C, a dual rear camera for taking Portrait Mode-style photos, an IR blaster to control your home entertainment equipment, room for two SIM cards or 1 SIM with a microSD card for 128GB of additional storage, and a 3.5mm headphone jack.
Credit: Abhimanyu Ghoshal
While most of those features are now common across the phone market, the additional niceties are certainly enjoyable: I haven't had to reach for my TV remote since I began testing this. Plus, Xiaomi's USB-C-equipped phones support audio output, so they play nice with accessories like this pair of powered active noise-cancelling earphones.
This being an Android One device, you can expect an unskinned flavor of the OS; the only difference is that you'll notice the camera app has been borrowed from Xiaomi's stable. That means that you won't get all the features and apps that Xiaomi adds to its other phones, and that can be a good or bad thing depending on whether you're a fan of MIUI.
Personally, I'd prefer a skinned version that adds useful functionality – for example, MIUI lets you copy OTPs from SMS messages with one tap right from the notifications – and I'm growing tired of the standard Android interface, but that's just me.
Android One also promises two years of timely updates – but sadly, the A1 is still stuck on Android 7.1.2 Nougat. That's not really a huge deal, but other hardware makers like HTC are already pushing out Oreo updates for its handsets.
Performance
The A1 is powered by a mid-range Snapdragon 625 2GHz processor that's paired with 4GB RAM, an Adreno 506 GPU, and 64GB of onboard storage. That combination allows for decent performance across most social apps, productivity tools, and browsing. You won't notice much lag when switching between apps, and the majority of them work fine in split-screen mode.
Things slow down a bit when you fire up graphics-intensive games: expect longer load times and slightly poorer performance than you'll see on a flagship phone. With Into the Dead 2 , for example, you'll notice shorter draw distances, as well as longer waits between levels.
I also experienced occasional app crashes with Instagram and SwiftKey, which is rather unexpected on stock Android; in contrast, I almost never encountered such issues on Xiaomi's Mi 6 and Mi Mix 2 earlier this year, both of which come with the company's MIUI flavor of Android.
Still, those aren't deal breakers by any means. The A1 makes up for these few negative points with its commendable battery life: I easily got more than a day of use out of it with a single charge.
Camera
Arguably the best thing about the A1 is the dual 12-megapixel camera system, which allows for 2x optical zoom and the Depth Effect, which adds some separation between the foreground and background with a bit of blur.
The camera is a bit slower than I'd like, which means that action shots are hard to capture. The default wide lens, with a focal length of 26mm, manages sharp images with your entire frame in focus. However, it's easily baffled by mixed lighting conditions, even a bit of shade in the scene. As such, you'll find yourself tweaking the area of focus, or switching to Manual mode to get a decent shot.
Credit: Abhimanyu Ghoshal
In general, the camera system's white balance errs on the colder end of the color temperature spectrum, and highlights such as clouds in the sky and brightly colored fruit, are often blown out. I'd have also liked to have seen better detail and image fidelity from this handset, but perhaps that's asking for too much at this price.
The zoom lens does get you closer to your subject in a pinch, but it's not great by any measure, and I found myself avoiding it as often as I could. Instead, it's handier for Xiaomi's Depth Effect, which lets you get some nice bokeh and depth of field in your shots. It works best when there aren't a lot of complex details to blur out in the background; Meizu's budget M6 Note does an arguably more convincing job with this effect, as do higher-end devices like Google's Pixel 2 .
The front camera is fine for selfies and video calls, provided you're in well-lit conditions; things get sloppy when you've only got a weak bulb lighting your face. The same can be said for the primary camera's low-light performance: expect slower response, a good amount of noise and low color accuracy in such situations.
Overall, this isn't exactly a camera setup that'll inspire you to shoot often, but it's capable of good shots when you put some effort into taking pictures. And it doesn't hurt that the A1 is capable of capturing 4K video at 30fps.
Who's it for?
If you're in the market for a sub-$250 phone that you'll use for a couple of years, the A1 is certainly worth considering. Whether it's your first Android, or a daily driver for college or your first job, this phone offers a lot for its asking price.
Aside from the occasional lag in camera and gaming performance, and an older version of the OS despite it being an Android One model, I have little reason to pan this budget phone. It's a serviceable piece of gear that should see you well into the next year or two.
There are a fair number of alternatives at this price, most notably the Moto G5s Plus, which I've heard offers fairly similar performance on all fronts. Given that, you could go either way, depending on which brand is more easily accessible in your area.
Find Xiaomi's Mi A1 on the company's site or on Flipkart if you're in India, and on GearBest if you're elsewhere in the world.
This post is not sponsored, but it includes affiliate links to products that you can buy online. If you purchase them through our links, we get a small cut of the revenue.